Mary E. Taft, pioneer of the ox-team period...
...who arrived in Los Angeles on Christmas Day of 1853 with her father, Captain Hazard, her mother, her several brothers, has not lost one whit of her wish for the old days, for what are to her the "good times" of the plains trip and for the pleasant friends and neighbors of her 30-year life at Fifth and Hill.
Her memory dwells upon just such incidents and experiences—many of them humorous—to any woman would seem important. Dates and sometimes names slip away into the unremarkable past. At 91 she is small, frail, active, with a brown skin, watery eyes, wandering hair appearing on her chin, and yet with a flashing sense of humor. She talks easily and with enthusiasm though her terms are not always manageable.
Her father, in the beginning, had for many years sailed the Great Lakes as a trader. She herself was born in Detroit of this father—who was a Vermont Yankee in origin—and of a Scotch Irish mother. When the Gold Fever hit the country he went to California, San Bernardino, later known as Placerville. He established a general store.
Finally he conceived the idea of having his family come out to join him. To that end he made plans for their journey via ox-team. One morning he opened a paper to read of an Indian massacre of immigrants. That settled it for him. He went back home and brought the family out himself.
It was a long journey—about 2 years—Chicago, Salt Lake and the southern route, to San Bernardino and finally to L.A., arriving on Christmas Day, 1853.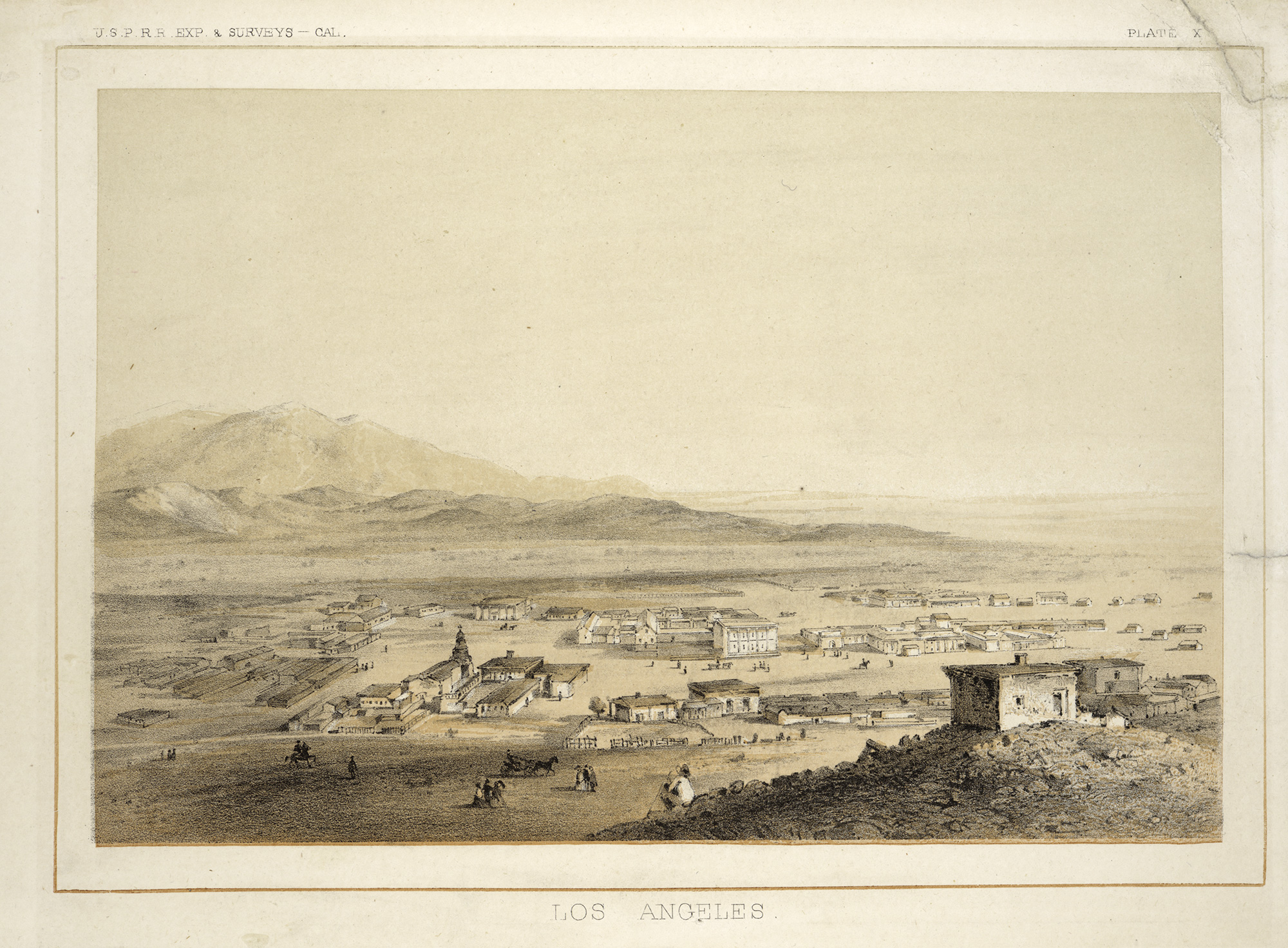 Mary married Harley Taft, who was in the livery stable business. Taft early got the mining fever and spent much of his time and most of his means on a fruitless attempt to get rich out of the ground. That left his wife to spend part of the year with her mother at their home on Third & Broadway and later to depend on her brother Henry for aid and advice.
There was to be an auction of worthless property, she said, and was going to be sold for taxes. That was in 1866. Harley told her father to bid in on the land bounded by 4th, 5th, Hill & Olive Streets and that he would pay the bill and then they'd divide up the land. At this time there were no buildings whatsoever west of Hill Street and the hills were utterly bare. She is under the impression that they paid about $9.00. (The records show $9.90 was the price paid for each corner.).
With this property they did nothing for a while. It stood in the name of Harley, but on the advice of Henry Hazard it was deeded to Mary to avoid losing in on account of a grocery bill that Harley had incurred but had been unable to pay due to his mining losses. Henry gave her the choice of Fifth and Hill or of certain property far West, at Washington, she thinks, that also stood in Harley's name. She chose Fifth and Hill without hesitation, because this lovely spot appealed to her without her hardly knowing why.
Once in her name, Mary held on to it until she got her price, which was $40,000.00. She had to wait 30 years, but the Scotch blood in her made her value and love real estate. (She regards her longing for the ownership of land as a sin—her big sin!)
One day her good adviser, Henry, who went back to Ann Arbor to study law and who was destined to be Mayor of L.A., offered to help her further. She wanted to build a little shack at Fifth and Hill. Henry said he would pay for erecting a house of some size, good in appearance, painted without, but partly unfurnished inside. The inside could be gradually completed _____. It would house three extra rooms that she could let out to roomers and thus prevent the loneliness of the spot from being too oppressive and help her out on her financial weakness.
This plan of Henry's was carried out and a carpenter, son of Old Nadeau, put up the house. As Mrs. Taft remembers it, her home was the first residence West of Hill Street in the Park region.
Altogether Mrs. Taft put up more houses, used partly for rental purposes. One of these adjoined lovely on the East and was occupied by her good neighbor Huiskamp. And there was a Third, and Fifth. When the Normal School went up she had several girls from there staying with her.
Mrs. Taft remembers the appearance of the park before it was a park. It was a place open …with high grass and mustard growing. A place to stake out cows. Also a camping ground for incoming parties. These campers used to build fires and do their cooking.
"Do you know I could stand at my own corner for a half hour and not see a soul pass.
"Oh but there were happy days. And sad ones too. I think Fifth and Hill was the best place in the world to live. Such fine neighbors. The Nadeaus were lovely people. Old Man Nadeau was a Frenchman & n…. I remember when he built his home at Fifth and Olive,--where the Biltmore now is. He built quite a nice place and then he brought his wife out from the East. Well, she'd been there some time when one day it occurred to me that she must be awfully lonely. So I took my two children & we went to see her. And do you know she broke down & burst into tears when I came. 'You're the first woman to call on me,' she said. 'People back home don't do that way.' 'Oh you'll be just as bad!' I told her, 'when you've been out a while.'
Well, on my way home I noticed a woman frying something in a skillet over a fire in the park. A little boy was with her. It brought back the days when we had to cook over a campfire on the plains trip. Just the same way us pioneers can't see oxen without thinking about the good old times. This woman I found had just come over the pains. She'd been camping there for two days. We had quite a good talk. Then, I thought I'd play a little joke on Mrs. Nadeau. I went back to her house and said: 'Why, Mrs. Nadeau, why don't you call on your neighbors!' 'Neighbors,' she replied, 'I didn't know I had any.' 'Why, yes,' I told her, 'There's a woman been living next to you for two whole days and you haven't even called on her!'
"Well, as I was saying, some trees were planted in the park. Pretty soon they put a fence around and then the children couldn't play there anymore. It became tiny. There were rules and all that. I didn't like that."
"There was a time when my husband, Harley, urged me to sell the Fifth and Hill corner. Never while ____, were his very words, will business come down to Fifth and Hill! I never forgot that prophecy, but my Scotch blood made me hold on.
"My brother, Henry, you know, built Hazard's Pavilion at Fifth and Olive, where the Philharmonic now is. Bicycle riding was taught there and many bicycle contests and doing were held there. Also ____ contests and theatrical entertainments of all kinds.
"I remember once there was a theatrical troupe came down from San Francisco with a show that called for a bar in the basement, for the audience and actors to go down for drinks between acts. Those days S.F. was early ____ nothing about this to nobody. My good neighbor told me about the plan for a bar. We decided we'd stop it. We got up a petition & started out for signatures. The first man we went to was Sparks, owner of the rooming house where all the actors were staying. He was a good Christian man but do you know he turned pale when he read the petition. Finally he said that if so-and-so signed it he would sign. Well we walked right out & Mr. ---- said he'd never have another chance to sign. We went on down Hill Street to Sixth—there were two or three houses there—getting signatures. ­­
"Then we went up Sixth to Olive, along Olive to Fifth—getting, among others, signatures of old Mr. Harriett. He was quite a drinker, in those days & I thought it was quite a victory to get him to sign. All he asked was, what did my brother Henry think of the bar. I told him rather sharply that I hadn't discussed it with him. We kept on canvassing, Olive to Forth, Forth to Hill and back home. Then we took the petition to the Chief of Polic—and I have nothing but praise for the police. The Chief told us to keep quiet and just watch what happened. Well, the show opened and there was no bar. We beat them!" she added, with _____ satisfaction.
"One time I saw a man holding a woman by the throat up against the side of the Pavilion and apparently choking her to death. They were as close to me as you are. I shouted to Henry who was inside. He rushed out, saw what was happening, grabbed that man from behind and carried him all the way to the Police Station.
"Let me see, there was something else I wanted to tell you. Oh yes, you know our place had a picket fence in front of it and ____ a hedge—thick enough so that I could see through it but could not be seen. One day I heard a man outside moaning and carrying on at a great rate. I went out and hid behind the hedge. I could see the man, pretty drunk, talking at a distance to a whisky bottle that he'd set up on the ground. 'Goodbye, whiskey! Farewell, whiskey!' he was saying. I took a stick, reached thru the hedge & knocked the bottle over. 'Blug, blug, blug' went the whiskey spilling over the ground. When the man saw what had happened—my he was not mad, he was furious!
"Did I tell that about the zanja or irrigation ditch. It went right across our corner—we had a little bridge over it—crossed the street and a part of the park. It was about 4 feet wide, I think and about one deep. Children used to wade in it.
"When I had lived at Fifth and Hill for 30 years, my chance to sell for $40,000 came. That was in 1900. The California Club became the owner. Now more than 3 weeks later someone told me they had a chance to sell for $80,000. And I had waited for 30 years for half that! With that money, which I thought would help my children I bought this place on Holly(wood?) Blvd.—which was way out in the country, and also the corner of 8th & Flower in L.A."